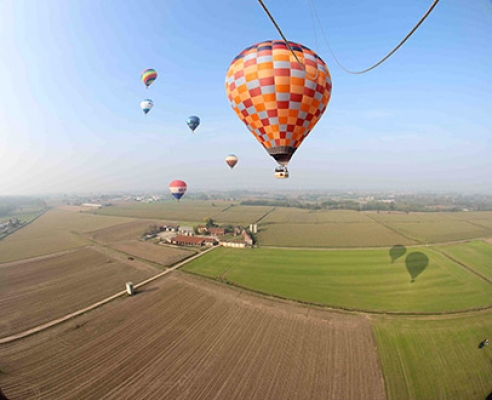 CHARBONNIER: BALLOON FLIGHT FOR 72 PEOPLE
Milan and outskirts, October 2013
Mongolfiere.it managed a flight for a corporate group coming from abroad: 72 passengers including employees, families and collaborators of an Indian bank, gathered in Milan for a convention. The request was for an "off-the-box" fun and recreational activity dazzling all participants without the need for any physical training. Seven multi-coloured hot air balloons have taken off almost simultaneously, each one trying to fly as much as possible next to the other to let the passengers take photos and videos to remember the experience.
The landscape seen from above is something you can't experience every day, and a low-altitude overflight of small towns making you able to see hundreds of people amazed wondering about the direction of the balloon fleet is even more exciting.
The balloons are not driven vehicles but let themselves be carried away by the wind, the exact point of landing is never planned and after an hour flight the whole fleet land within a few miles. Each rider chooses the field which is most congenial to him and communicates it to his crew.
After hitting the ground, and after the traditional applause of all the travellers, each crew fold the ball and at the same time the ground crews reach their balloons coordinating the bus shuttle for the passengers.