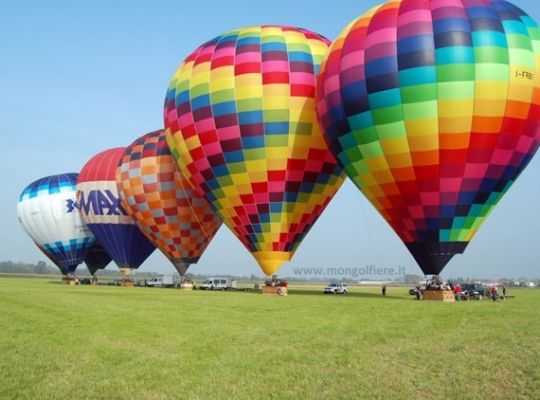 MILAN BALLOON TOUR
Hot air ballooning over the city of Expo, lasting approximately one net hour (three hours including inflation, deflation and return to the meeting point), with departures from Lodi, Cassano d'Adda and Trezzo, as well as from farther towns, such as Reggio Emilia and Masino Castle (Turin, 100 km from Milan). As an alternative, flights over the Alps of Aosta Valley.
The flights are always different, both direction and speed are controlled by the wind: you know where you start from, but not where you are getting to! During the activity, the pilots will explain to all participants (also in English) the basic principles and the curiosities of aerostatic flights. The ground crew, always in contact with the pilots, follow and retrieve the balloon at its landing.
Departures are early in the morning or in the evening, according to requests, whilst times vary depending on the season. In particular: from Aosta only in the morning, from 4 up to a maximum of 30 passengers, from Masino both in the morning and in the evening, from 10 up to a maximum of 60 passengers, and from any place in Lombardy both in the morning and in the evening as well, from 14 up to a maximum of 60 passengers.
The price is 250 € + 10% VAT per passenger, on one or more balloons, insurance included, plus the optional transfer for passengers from the landing point to the next destination.
The cost of customized banners to be applied on the balloons' baskets may be quantified apart, on request.
See all newsletters