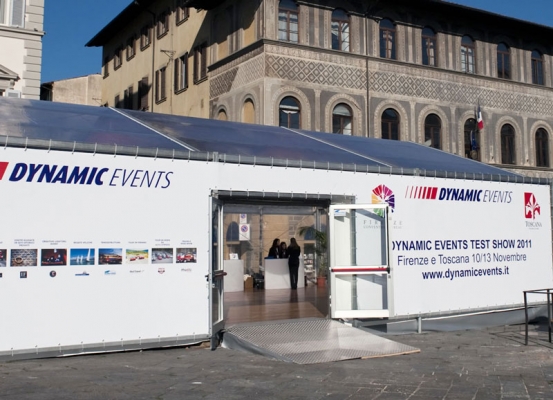 EUROTREND
Established in 1985 by partners already working in the tent industry, Eurotend Srl has turned into one of the largest and most qualified companies dealing with the rental of temporary marquees. Eurotend tents allow you to create indoor spaces provided with excellent quality and outstanding technical features that meet the most demanding requirements of any customer. Eurotend experts carry out inspections aimed at providing assessment and advice to customers since early design stages, by seeking appropriate solutions and offering the most adequate structure type for any kind of event. A wide range of available tents with the relevant attachments is installed by a team of qualified workers who ensure on-time delivery. It is also possible to install a combination of the several structures available, ensuring practicality and a positive visual aspect.
Eurotend product range offers several exhibition options: from a large covered structure such as "Revolution", an elegant structure with modern-looking aluminium tubes and cover with insulated panels to octagonal, dodecagonal and polygonal tents of varying sizes to suit any space requirement.
Eurotend also offers classic double-pitch marquees with span widths ranging from 10 to 60 metres, which may be extended according to customers' needs. Eurotend has also designed products and attachments which contribute to the elegance and comfort of a marquee. By way of example, its flooring systems ensure the perfect layout and steadiness of exposed wooden footboards, even if the laying ground is characterized by slopes. Eurotend modular structures may be used irrespectively of weather conditions, as they may be heated through hot air generators or cooled during summer. External shielding made from either wood or aluminium may be installed on request along the structure border at either varying or homogeneous heights which enhance the structure's appearance even more. Also thanks to an extreme ease of installation and dismantling, these solutions may be adopted for both temporary and durable events.
See all newsletters