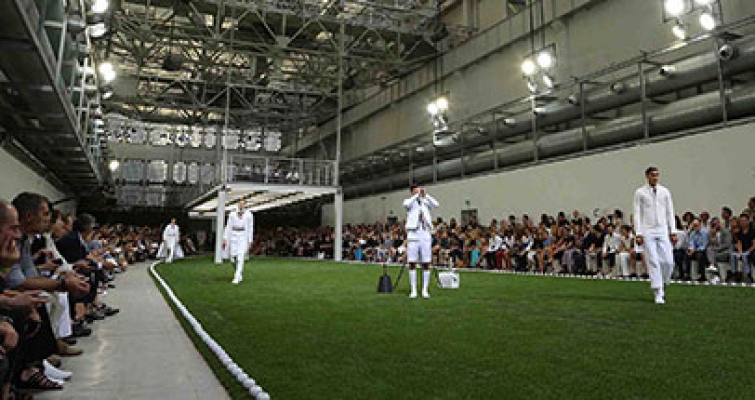 ALF SERVICE: MONCLER FASHION SHOW
Milan, June 23rd 2013
On June 23rd, ALF contributed to an important event in the Milan fashion week: the Moncler Gamme Bleu fashion show, held at Magazzini della Scala's Pavilion Visconti, in the central Tortona street, the heart of fashion and of the city nightlife.
The brand set the fashion show as a catwalk quite similar to a short movie inspired by cricket. And suddenly, in the green grass especially "planted" in the pavilion, the Italian top model Andrea Preti appeared, playing for a few minutes the role of a photographer and letting the audience make a blast from the past, sometime around the eighteenth and nineteenth centuries. ALF Service collaborated on this project, directed by Belgian director Etienne Russo, offering the many technical solutions required for its implementation, and coordinating the various interventions as well. And in the end it designed and implemented the final "twist". For the traditional group photo of all the models, shot by Preti himself, thanks to a special effect based on magnesium it lit up the set with a flash similar to that of the ancient cameras. Much appreciated by the audience, perfectly fell into the atmosphere.
ALF Service provides conventions, corporate events, parties and presentations with its own organizational experience, which means lighting designers, innovative technical equipment, refined entertainment.
See all newsletters