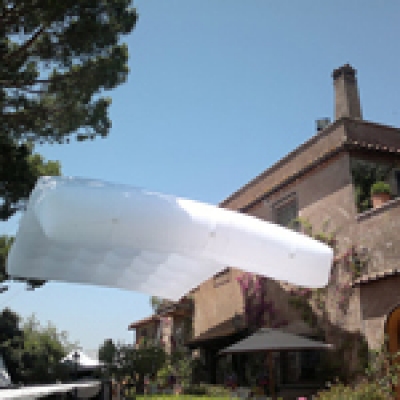 ALF SERVICE: HELIUM CLOUD
ALF Service, a company specializing in communications and set design and lighting for big events, offers a new shield from sunlight, perfect for cocktail parties, outdoor events and film sets. It is called Helium Cloud and consists of a flying "mattress" which spreads the light of the sun cutting three full-stops: placed on the top of the event surface, it serves as a shield just like a cloud. It is a very versatile system that allows you to eliminate the direct sunlight during outdoor cocktails and presentations even in the hottest hours of the day. At night it can be used as a flying projection screen or as a bounce/lighting balloon to light up the hospitality area. It may also become a blue/green flying screen suitable for digital footage. The individual modules can be combined in a 200-square metre screen.
A curiosity: it was designed and set up at Campo de 'Fiori in Rome, during the shooting of Woody Allen's latest film.
See all newsletters