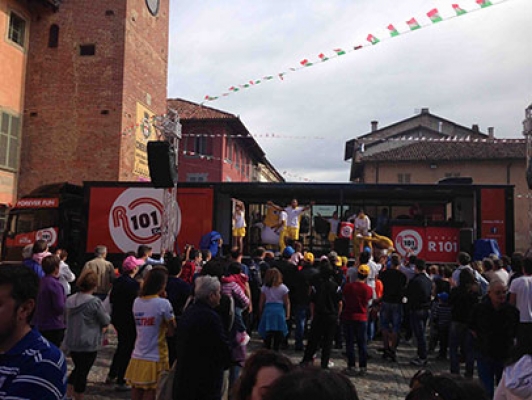 MODO PROMOTION: TOUR OF ITALY WITH R101
May 5th-27th, 2013
The Tour of Italy is an event that has become consolidated over the years for Modo Promotion, the Turin-based company leader in the management of road shows and promotional tours on the road with the support of truck and special vehicles for outdoor events.
For the 2013 edition of the cycle race Modo Promotion has provided and set up its Big Truck for R101, the radio station media partner of the Tour of Italy. Thanks to a tried and tested format, Modo Promotion's Big Truck, endowed with a stage extension, represented, as part of the open village set up at every stage of the Tour, the heart of the event. Interviews, live radio, animation, music, entertainment and animation programs by both the staff and the DJs of R101 run step by step on board and around the Big Truck.
In addition to this special truck, Modo Promotion has provided the technical and logistical staff, the support means, the interior trim and the custom graphics outside the truck. On board there was a hospitality area for the invited guests of R101, who could watch the various stages of the Tour live on the TV screens installed aboard the Big Truck.
See all newsletters