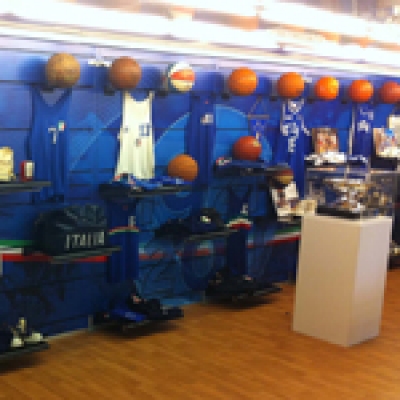 MODO PROMOTION: BASKET STORY ON TOUR
14 towns, June-September 2011
With the stage at Fiera di Rimini on September 9th-11th the three-month lasting BASKET STORY on tour, organized by Modo Promotion of Turin on behalf of FIP - Italian Basketball Federation, came to its end.
More than 30 days on the road with the new truck hospitality by Modo Promotion, for a total of 14 stages in as many Italian cities. All this aimed to celebrate 90 years of Italian basketball bringing its history in the streets among both today's young basketball players and the fans of this dynamic sport.
On board the truck hospitality a real exhibition on 90 years of Italian basketball was organized, retracing – through photos, memorabilia, collectible shirts, cups, original, shoes and balls, historical books, brushes, and descriptive video – the history of this fascinating team sport and of its most significant moments for the Italian national team.
Each stage of the roadshow was marked by meetings with both representatives of the Italian basketball and the champions of yesterday and today. Of course the authorities, the sport clubs and the basketball teams of each territory, at every level and age, were directly involved.
From the Internet Point set up in the truck, visitors could browse the website of the Italian Basketball Federation (www.fip.it), while exclusive tailored souvenirs were available in the merchandise corner. Modo Promotion also customized the truck outside, giving it the pleasant "blue" colour of the national team.