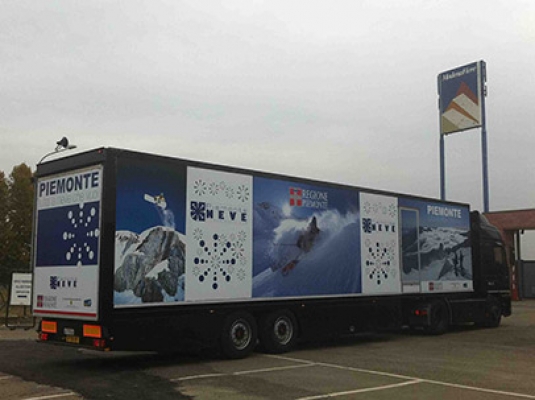 MODO PROMOTION: TRUCK AT SKIPASS FOR PIEDMONT REGION
Modena, October 29th – November 1st 2011
Winter is already here for Turin's Modo Promotion, Italy's leading agency for organization and management of "on the road" promotional tours and events supported by itinerant trucks.
At Modena's SkiPass (an important exhibition of tourism, winter sports and freestyle), from October 29th to November 1st, Modo Promotion attended with its STAGE TRUCK (i.e. a truck with a stage extension) the Piedmont Snow campaign, aimed to promote tourism in the Alpine regions of Piedmont – from the Olympic to the less known ones. In the Piedmont region stand it was this fully branded STAGE TRUCK by Modo Promotion that actually excelled. Brought by Modo Promotion were also both the audio-video devices and the hostess and entertainers caring for the public during the days of the exhibition. In the truck stage, in fact, games as well as themed performances and fun activities were planned during all the four days of the exhibition: a live picture of the world of snow and of the mountains of Piedmont!
Institutional information desks were placed in the VIP area set up on board the truck, while all around one could find the information points displayed by many local offices and accommodation facilities of the area.