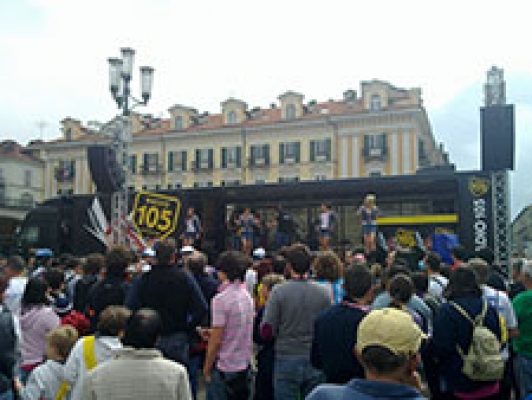 MODO PROMOTION
Modo Promotion is an Italian company specializing in organization and management of tours and promotional campaigns on the road, with the help of special equipment and trucks – a modern fleet of trucks for great-looking events, fully customizable, travelling and stopping on the way, bringing the brand or the product in direct contact with the target audience, wherever it is. Modo Promotion's service is "turnkey", from the concept of the communication plan to the realization of the event.
Targets are nowadays fast and elusive and the market is increasingly crowded. The traditional tools of communication are not sufficient any longer. The messages need to be delivered in a new, widespread and distinctive way. The events by Modo Promotion, far from being just about products and services, represent a form of brand entertainment involving the target. The brand thus becomes a star, starring with the audience on a truly touring show. Modo Promotion has a property fleet consisting of seven last-generation trucks, technologically advanced and different from each other in features and sizes. Either tailor-made for the client or completely customized both in the exterior graphics and in the interior set up, the truck is a real magic box. It can be transformed into a showroom, as well as in a video direction cabin, or in a multi-sensory path, a VIP area, an exhibition stand or a stage for outdoor performances, just to name a few examples. Dressing up the idea of the customer and delivering it by a means of transporting, is the mission of Modo Promotion.
Every event starts from the table where, together with the customer, Modo Promotion's staff defines the communication project: from the choice of the truck to its customization, from the set up to the identification of the best road-map and of the main parking areas, depending on the objectives of the tour (either squares or shopping malls, beaches, ski resorts). Additional fittings such as tensile structures, inflatable villages, mock-ups, lighting equipment, audio and video, enrich the offer of Modo Promotion, which also takes care of logistics, as well as of the permits for public soil occupancy, of the licenses for touring sale and of the hiring of specialized staff throughout Italy. The versatility of the offer and the proposed solutions, together with the "turnkey" service make Modo Promotion the ideal partner for the development of an alternative communication, both dynamic and highly engaging.
See all newsletters