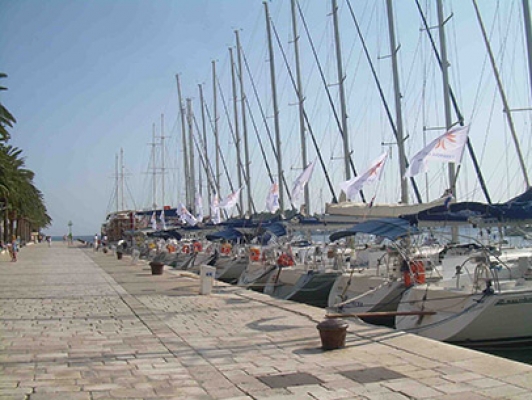 SAILING CHALLENGE: FONEMA GROUP for ENEL
Hvar (Croatia), May 22nd 2009
Here is the typical sailing event implemented for a convention. Our client in this case was the Rome-based agency Fonema, whilst the event was for Enel, Italy's largest electric energy provider, which held its corporate sales convention in the Croatian town of Hvar from May 19th to 21st, 2009.
The participants were employees of Enel, as well as internal and external partners and top managers, men and women aged between 35 and 45, all Italians. The main objectives of the event were the facilitation of teamwork and leadership, the sedimentation of the concept of internal change, the spread of knowledge, the strengthening of corporate identity, motivation, the emphasis on the leader, the importance of roles and their true value, and the importance of individual responsibility too, because everyone is called to respond to the crisis and to decide under pressure.
The testimonial of the event was Paul Cayard, who supported both the technical briefing prior to the regatta and the regatta itself, as well as the debriefing. He stressed on some metaphors between the sailboat and the corporate world telling some of his experiences, particularly the Volvo Ocean Race. The guests – about 200 – were divided into two groups. During the morning half of the participants did the regatta while the other half took a tour of the island of Hvar with the Jeeps. They had lunch together in a waterfront restaurant and after lunch the two teams exchanged their activities. 11 Salona sailing boats from 37 to 45 feet were used, alongside four support boats and a boat for the jury, and the outcome were two really exciting fleet regattas.
See all newsletters