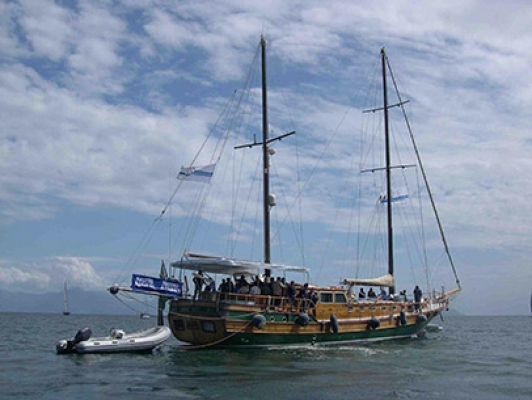 SAILING CHALLENGE: NASTRO AZZURRO – BIRRA PERONI GROUP AT AMERICA'S CUP
Naples, April 19th–21st 2013
During the 2012–2013 America's Cup World Series, Sailing Challenge tailored an event for Nastro Azzurro aboard a luxury gulet. The Italian company specialized in the production of beer invited in Naples 90 of its distributors in the regions of Calabria, Campania and Lazio to the exclusive viewing of the regattas of the World Series' Neapolitan stage.
The event, which aimed to strengthen the relationships with customers, was developed over three days, and saw Sailing Challenge offer a full service, from operational aspects such as hospitality at the Nastro Azzurro booth located in the America's Cup Village or the transfers to the boat, to the chronicle and the technical comments of the races on board the yacht.
Every day the "Maria Giovanna" gulet hosted both the team of Sailing Challenge and thirty Birra Peroni guests, navigating to the race course situated in the beautiful scenery of the Gulf of Naples, between Castel dell'Ovo and Posillipo, where the two catamarans of Luna Rossa challenged the other crews from around the world, in a preview of the America's Cup held in San Francisco (California) in September.