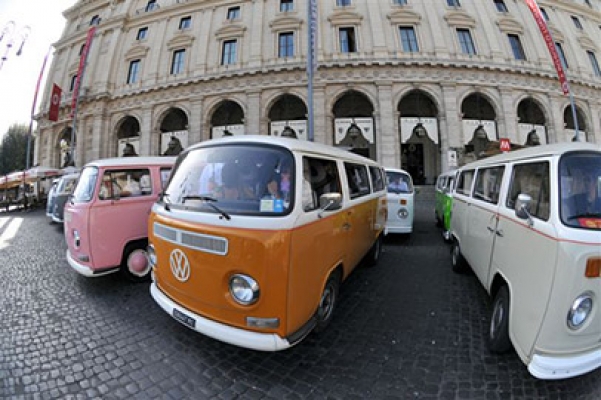 HR TOURS: ROME IN THE SEVENTIES
Rome, October 18th 2013
A true Roman "Ottobrata" with summer weather welcomed 42 managers of a major financial multinational company gathered in Rome from all over the world for their convention at Hotel Flora, in Via Veneto. On the morning of October 18th a dynamic blast from the past had been set up as a surprise, and could only be waiting for the staff of HR Tours.
The program included a tour of the city aboard the Volkswagen minivans registered in the Sixties and in the Seventies (the so-called "bulli") with drivers dressed in the fashion of those times, music coming from the seventies as well and lots of fun.
The group made ​​stops at the Colosseum, the Aventine Hill, the Trevi Fountain and the Janiculum, all taking an even more special look than usual in such a carefully reconstructed yesteryear's atmosphere.
At the Janiculum a snack was served, made ​​from Prosecco, soft drinks (many participants were Muslims) and appetizers.