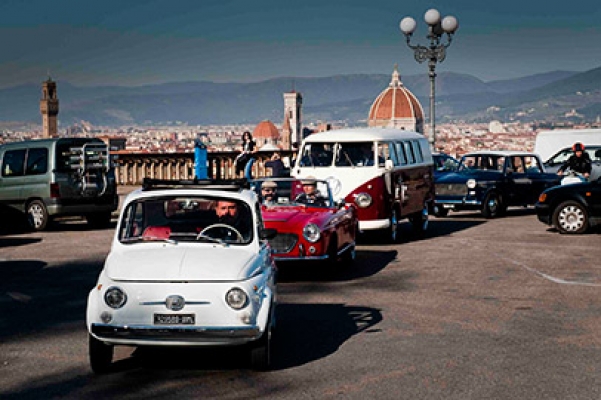 HR TOURS
HR Tours' mission is to provide all the pleasant extemporaneity of an outing in a vintage motor vehicle. Indeed, HR Tours' excursions are designed to enable both passengers and drivers to "commune" directly with the past as they experience all the emotions of a trip from yesteryear.
For the Test Show HR Tours provided ten vehicles, including five motorcycles (Vespas and Lambrettas registered between 1958 and 1972) and five cars, including a Volkswagen van with nine seats (the so-called "Bulli" model) and a Spider 1,200 cabriolet dating back to 1960. Assisted by a staff of nine people, including five Vespa drivers, the guests drove along a beautiful path starting from (and arriving to) Piazza Ognissanti and including a bridge across the river Arno, Porta Romana, the picturesque Piazzale Michelangelo stunningly overlooking the city, via Maggio and another bridge.
The vintage fleet of HR Tours also includes the historic Fiat Cinquecento, Seicento, 850 and 1100, as well as the Alfa Romeo Duetto.
See all newsletters