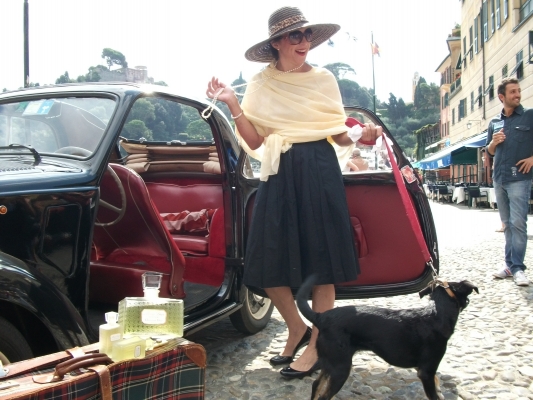 HR TOURS: CHRISTIAN DIOR TEAM-BUILDING
Santa Margherita Ligure (GE), August 31st 2011
A creative dip in the art photography, with vintage objects and atmospheres accurately reconstructed in the setting of Tigullio: here's what HR Tours offered to 110 Christian Dior employees.
The program was truly original. The guests were based at Imperial hotel, one of the most famous dwellings in Riviera di Levante. On board of forty Fiat Cinquecento endowed with modern satellite navigation, they made ​​a picturesque tour along the countryside and the hills of the area. At the same time, divided into six groups, they conducted a series of trials in six countries along the coast. The task was to create in each of the six locations a photo shoot, presenting to a jury at least three snapshots. The mission was to recreate the adv visuals of six major Dior perfumes.
In five of the six locations were placed cars dating back to the scents releases, helping to compose the set: a Ferrari Dino (in Camogli), a Porsche Carrera (Santa Margherita Ligure), a Topolino of 1947 (in Portofino's central square), a Mercedes SL inside Rapallo's castle and a Vespa of 1970 in San Rocco (Camogli).
HR Tours had made ​​available in each location a digital camera, spare batteries, a cosmetic trousse (comb, eyeliner, blush, hairspray, gel, etc.), hair, scarves, glasses, fabrics, tulle and so on. Each group had to recreate the set, take the picture and get to the next village, entering the address in the navigator. The local Vespa Club helped park cars and reach each location, if necessary. A truly unique and unforgettable experience.
See all newsletters