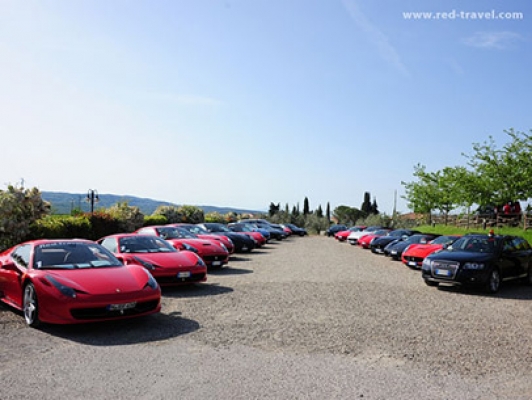 RED TRAVEL: RECKITT BENKISER TOP SELLERS INCENTIVE TOUR
Firenze, Chianti, Borgo di Cortefreda, Verrazzano's Castle, May 18th 2012 Red Travel organizes very exclusive incentive and corporate events based upon the best of "Made in Italy", coherently with both the clients' spirit and mission. Every event offers a high level of personalization, thus letting the purchaser make this experience unique giving maximum satisfaction to each participant.
These are the reasons why Reckitt Benkiser, with the aid of the agency King Holidays, asked Red Travel to organize a one-day incentive trip dedicated to their top sellers. A day dedicated to driving the mythical "rosse" along the wonderful Tuscan countryside, which showed up in its best spring attire.
135 participants, plus ten staff members, on board 17 super cars, properly briefed and assisted by four supporting cars, travelled along the Chianti valley, stopping and making a visit at the medieval town of Cortefreda and at Verrazzano's Castle.
The Ferrari Tour of Italy by Red Travel offers a unique luxury travel experience, a new and exciting journey through Italy at the wheel of the latest Ferrari. It's the perfect partnership. With a personal Ferrari Tour Director as your guide you'll experience a journey that has been created and designed especially for you. Breathtaking scenery, wonderful food, and people with an infectious passion for life, it's hard to imagine a country with more to offer. Red Travel does not just rent you a Ferrari for your trip to Italy. It lets you experience Italy by Ferrari as a First Class traveller. Staying in the very finest hotels, eating at Italy's most famous restaurants, and assisted by a staff of highly qualified professionals. This 1- to 8-day tour can be tailored to suit your every need.
See all newsletters