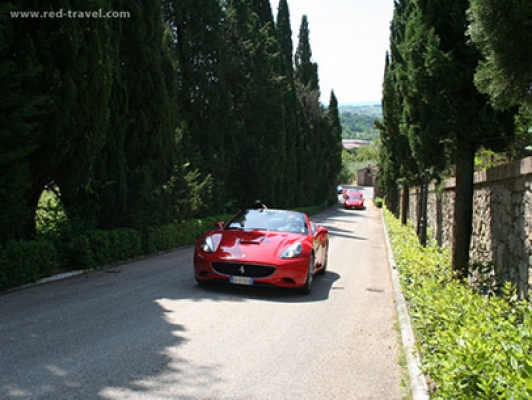 RED TRAVEL: PEPSICO TOP SELLERS INCENTIVE TOUR
Firenze, San Gimigniano, Siena, Radda in Chianti, May 17th 2011
Red Travel organizes very exclusive incentive and corporate events based upon the best of "Made in Italy", coherently with both the clients' spirit and mission. Every event offers a high level of personalization, thus letting the purchaser make this experience unique giving maximum satisfaction to each participant.
These are the reasons why PepsiCo, with the aid of the agency Carrani Tours, asked Red Travel to organize a one-day incentive trip dedicated to their best Brazilian agents. A day dedicated to driving the mythical "rosse" along the wonderful Tuscan countryside, which showed up in its best spring attire.
18 participants, plus eight staff members. On board 9 super cars, properly briefed and assisted by three supporting cars, they travelled along the Chianti valley, stopping and making a visit at the medieval towns of Siena and San Gimignano.
Red Travel was given in 2005 and again in 2008/2009 by The American Academy of Hospitality Sciences, represented by Donald Trump and Joseph Cinque, the Five Star Diamond Award, selected as one of the most innovative and glamorous travel experiences worldwide.
In December 2009, during ILTM exhibition, Red Travel secured the Ultra.travel Award for Europe, being voted by all the agencies and professionals in the field of luxury travel as the most memorable European luxury travel experience.
Dr. Buzz Aldrin, member of Apollo 11 crew and the second man on the moon has personally awarded Mr. Andrea Levy, President and CEO of Red Travel.