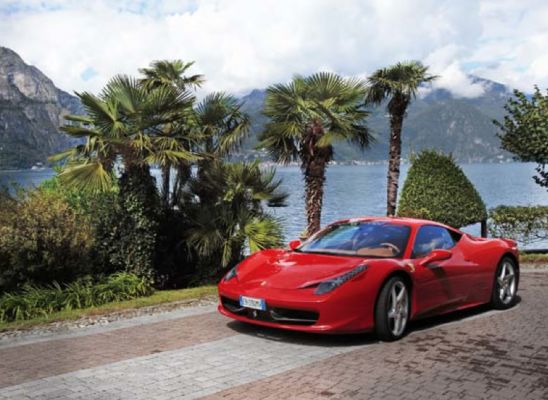 MILAN AND COMO LAKE
From Milan to Milan in Ferrari, passing through the wonderful lake views of Cernobbio, Bellagio and Lecco: this is the proposal by Red Travel for Expo, available on the following models: Ferrari 458 Speciale, Ferrari 458 Spider, Ferrari California.
The departure is from Grand Hotel Villa La Torretta (Sesto San Giovanni – MI), with welcome coffee and technical briefing conducted by the tour director. Guest go on the road after a short practice session, and head towards Como lake led by the Tour director, always in contact via mobile radio for the whole day.
Apart from the wonderful views, it must be said that the itinerary is carefully selected by Red Travel both for its spectacular scenery and for is its safety.
At mid-morning the group stops in Cernobbio for a drink at Villa d'Este (of which Herb Caen had to say «the precise location of heaven on earth has never been established but it may very well be right here»). For lunch, arrival is scheduled in Bellagio to Villa Serbelloni's starred restaurant "La Goletta" for a meal expertly prepared by Chef Ettore Bocchia.
In the afternoon guests start off with the return journey towards the shore of Lecco, making a short stop to breath the lavish atmosphere that pervades the background of Manzoni's The Betrothed. The arrival in Milan is scheduled for 6:00 pm.
The tour price per car (max 2 people) is 4,800 euros, including insurance and excluding gasoline. A deposit of 10 thousand euro is requested, as well as a 25% deposit upon confirmation. This rate is valid for up to 3 cars (6 people).
See all newsletters