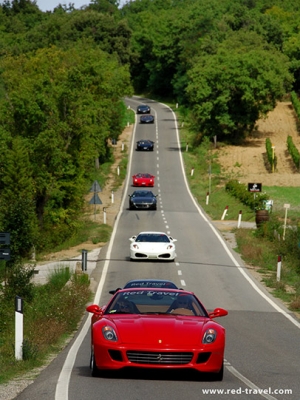 RED TRAVEL: HANNOVERSCHE LEBEN INCENTIVE 2010
Tuscany, September 11th 2010
Red Travel organizes very exclusive incentive and corporate events based upon the best of "Made in Italy", coherently with both the clients' spirit and mission. Every event offers a high level of personalization, thus letting the purchaser make this experience unique giving miximum satisfaction to each participant. These are the reasons why Hannoversche Leben asked Red Travel to organize the annual incentive trip dedicated to their best agents working in Germany. The event, based at the luxurious Villa Olmi Resort, took place throughout the whole Chianti countryside and at the Verrazzano Castle.
Twelve participants, including five staff members, on board of five cars, either Ferrari or Maserati, properly briefed and assisted by two supporting cars, travelled through the wonderful Chianti hills, among both cultural and wellness routes and a visit to the amazing Verrazzano Castle. The magnificent weather made the area's scenery even more picturesque.
The Ferrari Tour of Italy by Red Travel offers a unique luxury travel experience, new and exciting journey through Italy at the wheel of the latest Ferrari. It's the perfect partnership: breathtaking scenery, wonderful food, and people with an infectious passion for life, it's hard to imagine a country with more to offer. Red Travel does not just rent you a Ferrari for your trip of Italy. It lets you experience Italy by Ferrari as a First Class traveller. Staying in the very finest hotels, eating at Italy's most famous restaurants, and assisted by a staff of highly qualified professionals.
Red Travel offers the unique opportunity to drive on Italy's most scenic roads in five of Ferrari's different and brand new models. In a single day, guests take turns to drive the different models, experiencing the 8 cylinders' roar and handling, the 12 cylinders' majestic power and the spider's thrill. The comparison within the Ferrari models can be extended to the other two most significant automotive brands, which are both symbols of Made in Italy and technological excellence: Lamborghini and Maserati. In addition, Red Travel houses its guests in leading hotels, provides lunches and dinners in the most renowned restaurants in Italy, and grants the opening of exceptional venues normally inaccessible to the public.
See all newsletters