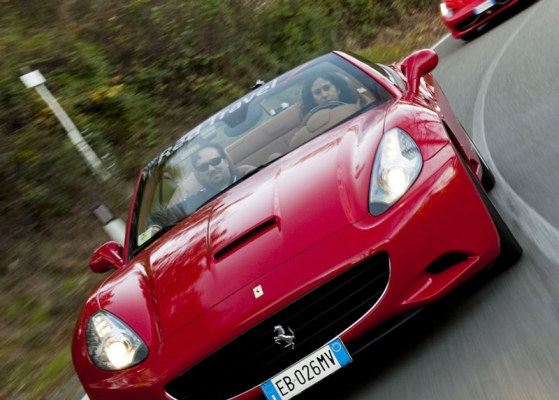 RED TRAVEL: ITALIANA ASSICURAZIONI INCENTIVE TRIP 2010
Tuscany, July 9th-11th 2010
Red Travel organizes very exclusive incentive and corporate event based upon the best of "Made in Italy" and coherently with both the clients' spirit and mission. Every event offers a high level of personalization, thus letting the purchaser make this experience unique giving miximum satisfaction to each participant. These are the reasons why the insurance company Italiana Assicurazioni asked Red Travel to organize for the third time the annual incentive trip dedicated to their best agents. The event, based at the luxurious Petrolio & Spa Resort, took place along the whole of the Tuscan countryside for three days. Thirty-five participants, including six staff members and the official photographer, on board of five Ferrari, properly briefed and assisted by three supporting cars, travelled through the "green heart" of Italy, among both cultural and wellness routes and the incomparable thrill given by driving the mythical "rossa". Every day they found their Ferrari elegantly parked in front of the entrance of the resort, and a constantly available Tour Director, ready to unveil the secrets of each model.
The Ferrari Tour of Italy by Red Travel offers a unique luxury travel experience, new and exciting journey through Italy at the wheel of the latest Ferrari. It's the perfect partnership: breathtaking scenery, wonderful food, and people with an infectious passion for life, it's hard to imagine a country with more to offer. Red Travel does not just rent you a Ferrari for your trip of Italy. It lets you experience Italy by Ferrari as a First Class traveller. Staying in the very finest hotels, eating at Italy's most famous restaurants, and assisted by a staff of highly qualified professionals.
No need to worry about becoming lost in the remote countryside, looking for parking on a narrow cobbled street or even fitting your luggage into the small trunk. Red Travel Tour Director with his supporting car, takes care of all that, providing you with instructions on how to drive your Ferrari and guiding you through the most picturesque roads up to your hotel, or giving you a map so that you can find the way on your own (and yet being available on call as well). Your bags will be transported separately straight to your hotel. You will be the only guest allowed to leave your Ferrari in front of the main entrance (and not in the common parking lot) of Italy's most prestigious five or seven-star luxury hotels.
See all newsletters